I decided last minute to sign up for this race. But come to find out it was sold out and I got on a "waiting list". I've never heard of a waiting list before for a half marathon. But a few days later, I received an email and I was in for $75.
The race was well organized and had super cool T-shirts (why is it so hard to design a cool shirt???). My far my favorite shirt thus far!!!

I wanted to have 2 half marathons (Timp Half and Hobble Creek) before SGM. As much as I don't like racing, I feel like every race helps me learn and grow. So I was really stressing about all this "learning and growing" all week. It makes me sick to my stomach. But I got a true test of where my fitness is at right now.

Because of my hard recovery from Ogden, I'm behind on my training. Nothing I can do about it. I will still get my 14, 15, 16, 18, 20, and 22 milers in, but nothing extra. I knew the course would be similar to Hobble Creek, so my goal was between 1:45 (Hobble Creek PR) and 1:50.
I had two main prayers this morning:
1. To have fun (and get rid of all the stressing).
2. To not get any more injured.
Both goals were met!
My alarm went off at 3:55am and I quickly got ready. I live exactly 1 mile from the AFHS and I quickly found a parking spot. I happened to see Julie C in the bus line and she kindly invited me to sit with her on the bus. I was grateful for the stressing out distraction. We had a great chat on the way up! She is such a great runner that I hope she finds answers to her injury issues!
We parted on the top of the mountain and I headed for the POP line. The weather was perfect - cold at the top!! Quickly got through the POP, dropped my clothes bag and saw several friends (Emily H., Pacer Paul, Kelli, Lindsay Dunkley and Mckell). I love seeing friends at races!
Soon enough, they called for everyone to head to the start line. I wanted to try and run with pacer Paul (the 1:45 pacer). But soon enough, I couldn't keep up. Then 2 seconds later, the 1:50 pacer flew by me. It totally deflated my mental ego. It reminded me of the Salt Lake Half. So many people were trucking down that canyon that it really messed with my mind.
But I knew I still had the majority of the race to go and I needed to grow up and just run my race.
Mile 1 (8:02): Feeling mentally down
Mile 2 (8:16): Worried I was going to fast.
Mile 3 (7:59): I could hear my watch beep and knew I was losing signal in a few spots.
Mile 4 (8:01): Still worried I was going to fast, but only 9 miles to go. I saw Lowell somewhere around here and gave him a quick hug.

Mile 5 (7:50): The AF track team was handing out water, so I found my cute neighbor and grabbed a cup from her. (maybe the water station was at mile 4)
Mile 6 (7:37): Feeling mentally better and starting to warm up and get into the groove.
Mile 7 (7:51): Took a Gu and quickly grabbed a water. Tummy started to have issues shortly there after. Saw Smooth heading up the canyon. I always feel better after seeing her!

Mile 8 (8:03): I was just entering the golf course trail and saw Catherine. She texted me yesterday and asked if I wanted a buddy to run the last few miles! I quickly took her up on the offer but told her I'm not a very good story teller during races (sorry!!!!!). I was grateful for her stories and had a lot of questions, but knew if I opened my mouth, I might vomit! I want answers next week when we run!!

Mile 9 (8:38): I'm not sure why this split is slow. I was on the very familiar part of the trail and I was just starting to loose steam. Took water.
Mile 10 (8:44): Maybe this was the water stop. I kept saying to myself to hang on for 3 more miles. My calves were starting to cramp from the downhill canyon. Thankfully, this was all in shade. Catherine had an emergency potty stop. I was sad to see her go, but was grateful she was with me for as long as she was.

Mile 11 (8:20): Took another water stop. Just hang on. Mentally tired.

Mile 12 (8:48): I've run this hill several times a week. The houses are in my ward. I knew I was getting close. I tried my darnest to hang on. I was totally in puke zone. I also knew there was a downhill and a flat portion to the finish.
Mile 13 (8:19/:20): I got down the hill and got close to the last turn. I see sweet Kelli. She turned and started running. I couldn't believe she was going to run me in (I figured she had an awesome race and was tired). I couldn't utter one word (puke would have come out), but was SO grateful for her company.
I was totally BUGGED at the finish. They had a timing mat and a balloon arch. I figured it was the finish. I crossed it and hit my watch. Then someone yelled "keep going". The real finish line was still 10 feet away. I wasn't sure I could keep going. So my watched stopped/started/stopped at 1:46:55 (it had a few lost signal canyon stops too).
I got my medal, grabbed a water and sat on a volunteers chair. One of the things I need to work on after a long run and race is that I drink too much water/gatoraide too fast. It always makes me feel MORE pukey. I complained to Pacer Paul and Rachelle about the too fast 1:50 pacer (she finished before I did). But they were spot on with their times! Yeah for their runners!
I headed to drop off my medal in my clothes bag and saw Kelli. She said she would run my 2 extra miles with me. I politely told her I was just going to waddle. But she ran with me anyway! She is just an amazing runner and person. We ran into Smooth (who was looking strong) and a few ambulances (boo!!!). My legs felt better after the cool down...not as much cramping.
I grabbed another water, went to look up my official time (1:47:18) and headed home. I was sad my kids/hubby weren't there. But kids had a late night Friday evening and had no interest in getting up. Understandable.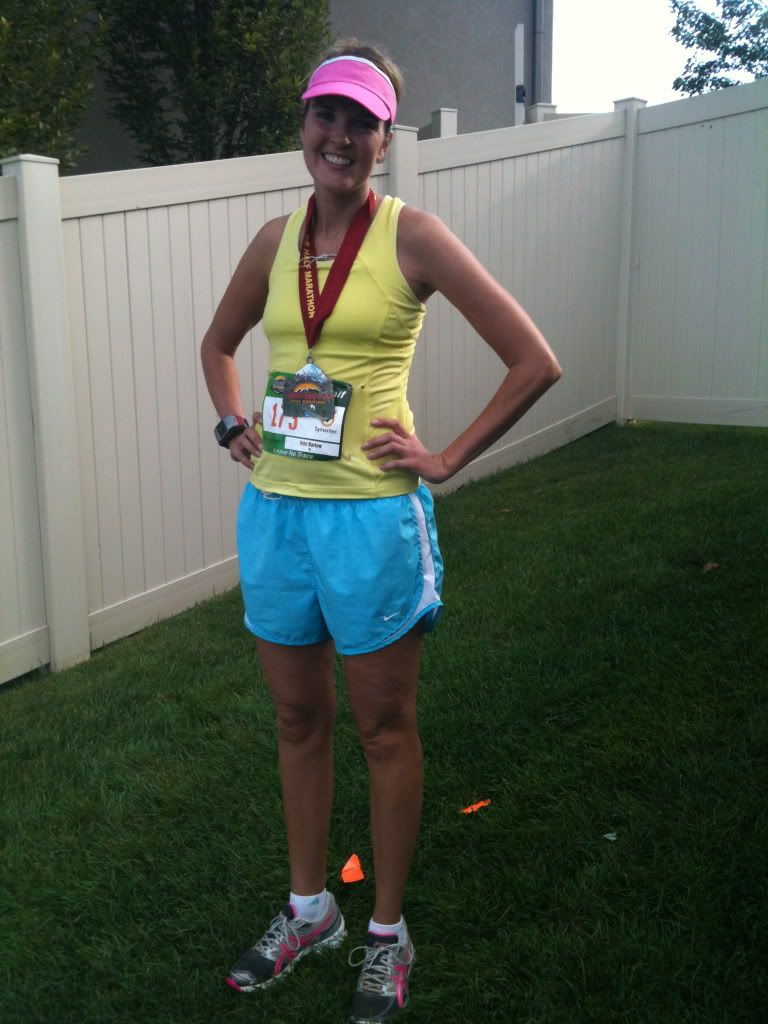 So overall analysis:
1. Injuries felt fine (yeah!!!!!) - leg cramps and soreness feel "after-race" normal

2. Love the course and weather
3. Semi-happy with results. Now I know where my fitness is - I have a better idea how to train. MORE MILES.
4. Grateful for good friends. Good...good people!
I came home and took a shower (sat in Epsom salts for awhile). Hubby had to leave, so I had all the kids. I closed my eyes for an hour, but knew I would need a real nap later when he got home. Ate a big burger at In n Out and came home and took nap #2. Feeling much better. Calves still very sore. Wearing compress socks.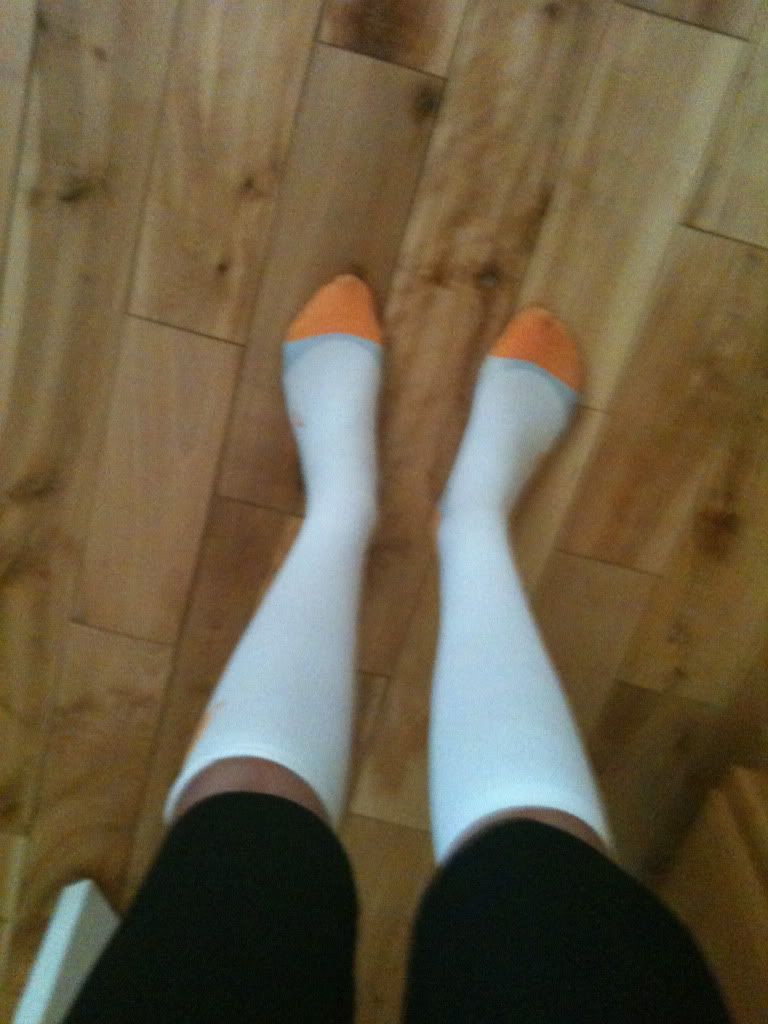 (Sorry for the blurry picture! Gotta love wearing compression socks with shorts!!!)

Going to see Neil Diamond tonight. Gotta love Neil!
Onward and upward