Miles:
This week:
0.00
Month:
26.25
Year:
137.12
2014 - Minutes Lifetime Miles:
28605.00
| | | |
| --- | --- | --- |
| Slow miles | Fast miles | Total Distance |
| 105.58 | 24.04 | 129.62 |
| | | |
| --- | --- | --- |
| Slow miles | Fast miles | Total Distance |
| 5.00 | 0.00 | 5.00 |
I met Catherine this morning! I told her I wanted to do a tempo run, but my legs were still super heavy and sore. So I decided every run this week was going to be easy (just because my legs won't move!!!!).
Easy 5 miles - good conversation - fantastic trip and fall by me (luckily, I landed in the grass...honestly could I get any clumsier????) - no stretching and a 2 hour nap before my kids got up. Honest-to-goodness-GREAT!

Comments(1)
| | | |
| --- | --- | --- |
| Slow miles | Fast miles | Total Distance |
| 4.66 | 0.00 | 4.66 |
43:35
AP: 9:21
9:50, 9:42, 9:21, 8:46, 5:53
There was a beautiful moon out this morning. First I have to start with a small rant: There is so much darn road construction by my house. I literally can't turn on my main street without hitting chunks of large, broken up asphalt, huge piles of dirt, running into a million cones and half the streets are closed. It takes me twice as long to drive anywhere (because of all the detours) and when I run these portions, I have to walk over them. Done.
I really wanted to have a bit of a faster run this morning. My legs have been dragging all week and I needed a bit of a booster. So once I got through all the road crud, I really tried to pick it up. I semi-succeeded.
I'm doing my longish run tomorrow, so I can totally focus on my kids' baptism on Saturday. Then next week, it is back to bigger miles and the track.
I had to have a really hard conversation last night with a family member. As a result, I'm not very popular right now. Sigh.....

Comments(2)
| | | |
| --- | --- | --- |
| Slow miles | Fast miles | Total Distance |
| 10.20 | 0.00 | 10.20 |
My baby turned 5 yesterday. Sigh....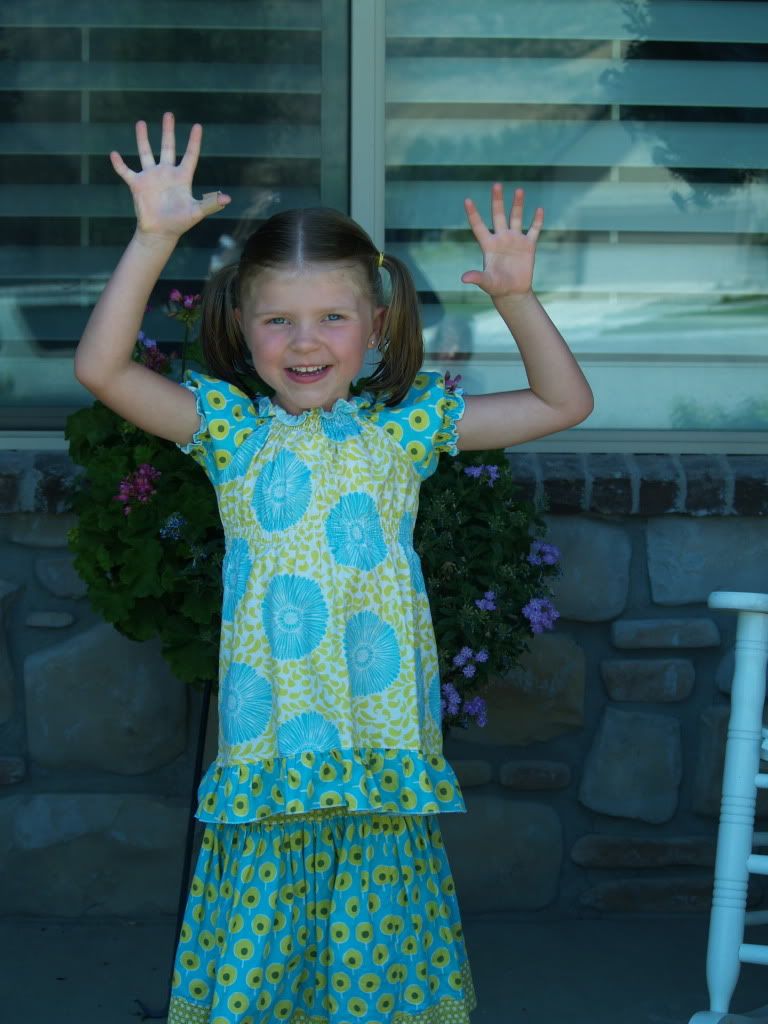 We had a cupcake birthday party. Lots of little 4-5 year old girlies at my house yesterday. In the middle of the party, Tim's mom called. His dad was just taken into the hospital. It was a busy day.

Onto running news: I woke up extremely sore from my 30 minute trainer session! Oh, how I have a love/hate relationship with my trainer!!!
Hubby took today off to finish final stuff around the house. T-minus 24 hours till the baptism. So I was able to sleep in for an hour (I didn't want to start too late or else it would be too hot!!!).
I felt pretty good today. The last 1-2 miles, it started to get hot. GU at mile 5.

1:34:25

AP: 9:22
9:39, 9:43, 9:55 (hill), 9:39, 9:27, 9:13, 9:08, 9:07, 9:12, 8:40,

20 minute weight session in my new workout room in the basement. Too bad it only has a 10lb and 12lb set of weights. And my foam roller. I hope to get a treadmill soon.
Taking the next 2 days off.
More family drama last night. I think I am moving my little family to the island of Sicely.

Comments(2)
| | | |
| --- | --- | --- |
| Slow miles | Fast miles | Total Distance |
| 3.00 | 0.00 | 3.00 |
Weekend update: Baptism was absolutely amazing! Everyone that I invited came. The spirit was strong. Kids were well behaved. Enough food at the after-party (barely...everyone came). But still one member of the family was full of drama.
Lots of cousins in town. Gonna party all week!!!

Women's and Men's 10,000 meter races were awesome! Women's marathon was AMAZING!! The USA ran their hearts out but it wasn't quite enough. WHY are the Africans that much strong and faster?
3 easy miles this morning. After taking 2 days off, I felt like I needed to relearn how to run. Right under my ankle (boney part sticking out) is still very achy. Not necessarily one specific spot, but all over aches. Blehhhhhhh

3x
side lunges with weights
bicep curl with overhead press
sit ups/core
donkey kicks/whips
back lunges
wall sits
lots of stretching

Comments(2)
| | | |
| --- | --- | --- |
| Slow miles | Fast miles | Total Distance |
| 2.50 | 2.50 | 5.00 |
We are heading to Lagoon today so hubby was home from work. Hence I got to sleep to in and met Catherine at the track an hour later than usual. But the sun wasn't up. Starting to get darker later. Fall will be here soon enough.
1 mile run to the track

3x800 with 400 rest (I haven't done 800's in years. I wasn't sure how many I could do, so I went off the fact of how many fast miles I needed).
3:28
3:28
3:27
I needed .25 more fast so I did one 400 - 1:39. I was sad at how slow that 400 was. Usually I hit those around 1:33. But I wasn't going as fast for the 800's.....
Those 800's were hard. I was breathing hard and I felt like it was hard to maintain speed for 2 laps. I guess that is why we do these. I'm just not feeling the "speedy" love these days.
Under the inside of my left ankle still really bugs. I iced it right after the run and then all the way up to Lagoon. Once all my family leaves town, I need to try to get in to the doctor. Ughhhh.....

We ran a few laps around the track as part of the cool down and then a mile home.
I spent all day at Lagoon. I guess I'm not a roller coaster kind of gal anymore. I had a major headache all day (probably between the coaster and all the junk food I ate).
Around 8/9pm, I went on 5 swirly coaster in a row and about puked. After that even watching the rides made me sick. Ughhhh..... We didn't leave until 10:00pm and didn't get home until after 11:00pm. I still felt so sick to my stomach that hubby put all the kids to bed for me. But I don't think I will be getting up at 5am to get my 8 miles in.

Comments(1)
| | | |
| --- | --- | --- |
| Slow miles | Fast miles | Total Distance |
| 0.00 | 0.00 | 0.00 |
I really didn't want to take my rest day today. But I was so hungover from Lagoon (we got home at 11:30pm), that I just couldn't drag my butt out of bed at 4:55.
So sleeping in it is.....

Add Comment
| | | |
| --- | --- | --- |
| Slow miles | Fast miles | Total Distance |
| 8.00 | 0.00 | 8.00 |
I didn't sleep very well last night. It was too hot and and I felt like I was sleeping in through my alarm. Hot outside.

8 easy miles - rec center road

1:14:16
AP: 9:19
9:27, 9:31, 9:55 (big climb), 9:31, 8:58, 8:55 (nice downhill), 9:17, 8:39
I felt good this morning even though I was tired and kept getting nailed by sprinklers. When I do this route, I often run on the sidewalks because the road is very slanted and my feet hurt at the end. But the sidewalks are old and uneven too and I really have to watch where I'm going. Hard life.
30 minutes with trainer. So many lunges with a really heavy ball.
More cousin goodness today.
Comments(3)
| | | |
| --- | --- | --- |
| Slow miles | Fast miles | Total Distance |
| 17.33 | 0.00 | 17.33 |
2:52:53
AP: 9:59
9:37, 10:24, 9:48, 10:11, 10:02, 9:53, 10:22, 10:33, 9:58, 10:16, 10:05, 9:41, 9:46, 10:05, 9:29, 9:44, 9:39, 3:11
Hubby took the day off for the final day of cousin fun. So I invited myself to Karen, Smooth and company's run this morning. They only needed 13 miles, so I arrived early and ran 4 miles of massive hills in Smooth's neighborhood.
Once I arrived back to the car, I filled my water bottles and did some stretching. I was still very sore after yesterday's trainer beating!!
We picked up all the company and headed toward Suncrest. Oh the hills! No wonder these gals are such strong runners! It was fun to catch up with everyone and enjoy the beauty of the benches. I love that area!
I took a GU at mile 6 and 12. My ankle really started to ache the last few miles. I made an appointment with my podiatrist for next week. Just want to make sure everything is ok.
We dropped everyone off at their respective turnoffs and Smooth and I headed to her home. What a great lady she is! She is so kind and thoughtful to everyone!
On the way home I stopped at the gas station to grab a bag of ice and a chocolate milk. I didn't last very long in the ice bath and the 4:30am wake up call was catching up to me. I took an hour nap and then headed to the movies and a hike around Sundance with my kids.

Comments(1)
| | | |
| --- | --- | --- |
| Slow miles | Fast miles | Total Distance |
| 4.00 | 1.00 | 5.00 |
43:24
AP: 8:40
8:56, 9:07, 8:55, 8:32, 7:49
I met my friend Sarah at the mouth of Provo canyon this morning. It has been since the Thanksgiving Point Half Marathon (aka my 22 miler) that I ran with her. She is getting married in a few months and it was awesome to catch up with her.
I forget how fast she is (even though she hasn't run in 2 months). I've never had a training run that had mile #1 under 9:00. I need to run with her every day! The Provo Half marathon was going on and so we tried to book it on the way down to be out of their way.
Though my legs were stiff from trainer and 17 miles, I felt great. My breathing was controlled and I was very happy!
Verdict is still out on my ankle. Various weights and core work at the house. Lots of stretching and foam rolling. Iced ankle.
Goodbye cousins....we will miss you. Time to clean the house and do some laundry!!

Comments(1)
| | | |
| --- | --- | --- |
| Slow miles | Fast miles | Total Distance |
| 3.00 | 0.00 | 3.00 |
My standard Monday morning run. Very hot outside.
Lots of stretching. 2 hour morning nap before my kids got up. Thanks for sleeping in kiddos!

Comments(1)
| | | |
| --- | --- | --- |
| Slow miles | Fast miles | Total Distance |
| 3.00 | 3.00 | 6.00 |
Track workout Tuesday! 4:55am came very early this morning. It was very warm and very dark. I love weaving through road construction junk in the dark!
I'm not sure why speed workouts stress me out so much. They keep me up at night and give me knots in my stomach. Maybe it is the thought of going to that deep dark spot that is going to hurt, make you puke, make you have the runs, and all the other glorious parts of running. But that dark spot sure had me in a tizzy today!
The goal was 8x400 with a 200 rest. I'm still unsure of what I should be running these at (I need to do some research), but I knew I could do 5-6 at 1:33ish. So I was hoping to start a bit slower and maintain the last 4-5 reps at that time.
1.5 mile warm up

1-1:38
2-1:35
3-1:34
4-1:33
5-1:32
6-1:35
7-1:34
8-1:32
1.5 miles cool down

Number 6 and 7, I mentally was really hurting. I was tired and my body was starting to hurt. The RIGHT thing to do would have been to just push through all the junk in my body and mind. But I didn't and I let it take over me. That makes me mad and frustrated at myself.
When I got home, I looked at my times from the last time I did 8/9 400's and these are still faster (those were in the 1:38-1:40). That did make me feel better, but I was still disappointed. Sometimes I feel like the more I run, the slower I get.
As I watched the women's Olympic marathon, I heard an announcer say (paraphrased) regarding Kara Goucher that it takes years and many many races to become "hard". Your body has to get use to the pounding and the pain, to learn how to race hard and mentally to overcome the body's resistance.
I guess I still have a ways too go. Marathon #3 is only 7 weeks away. 3 more HARD weeks of training and a few rest and taper weeks. I can make it 3 weeks. Right?
Hardly any nap this morning as I had a doctor appointment to have my ankle checked out. Podiatrist quickly said I needed 2 cortisone shorts. I wasn't expecting that....more strengthening exercises and RICE. Now my foot is totally numb and hurts. And I'm feeling the effects of getting up at 4:55am. Blech....
PM: Beat down from my trainer tonight. I always feel stronger when I meet with her at night. Probably because I'm not as tired :) Working out with her is comparable to getting my hair done.....sitting in the hair dresser chair=confession time/get things off my chest (sort of). So my trainer heard all my running woes tonight and gave me some really great advice. I appreciate her listening!

She ran for BYU and has run a few marathon and I feel like she has some smart knowledge. She said that I can't tap into the strong Aerobic base unless I do some Anaerobic stuff (something like that). She suggested that I add one more day of threshold runs to my routine. Do an all out 5 min sprint/5min rest - 3 min sprint/3 min rest - 1 min sprint/1 min rest. Maybe do track/hills on Monday and TR on Wednesdays, long run on Saturday and the rest of the week just get my weekly mileage. I hope I can make it work and start running a bit faster.
Ankle is still very sore and hurts to touch it (slightly swollen too). I've never had that happen before with shots. I hope I haven't messed up my race on Saturday.
Comments(8)
| | | |
| --- | --- | --- |
| Slow miles | Fast miles | Total Distance |
| 10.00 | 0.00 | 10.00 |
So if my 4:55am yesterday wake-up time was early, my 4:20am wake up time was REALLY early.
I had 10 miles on the calendar today and met Catherine about 2.5 miles into the run. I was so so so glad she was able to come this morning. I'm so so so sad she is moving. We had a great chat about life...I think she knows way more about me than she really wants too!!!
But the miles with her went by so fast (especially because it was so dark). Took a GU at mile 5. I was sad to drop her off at her car, but I knew I only had 2.5 miles home.
Though I felt good on the run, I was really wiped out by the the time I got home. I was so darn tired. I quickly iced my ankle. No stretching....darn. Ankle feels better than yesterday, but still very tender. I took a shower and crawled back into bed for a long nap. Thank you kids for letting your mother be lazy and take a nap this morning.
I spent way too much money on school shoes and supplies. My kids are becoming more picky about their clothes and consequently they are more expensive :) But I think we are ready for next week!
AP: 9:43 (manila school to up farm hill road to wal-mart) hilly the first 5 miles then downhill last 5 miles.
1:36:49
9:54, 10:04, 10:00, 9:51, 9:53, 9:21, 9:48, 9:23, 9:09, 9:21

Add Comment
| | | |
| --- | --- | --- |
| Slow miles | Fast miles | Total Distance |
| 4.00 | 0.00 | 4.00 |
Easy shakeout 4 miles. Tomorrow is a rest day. I feel like I'm falling apart between my ankle and my achy breaky hip.
Comments(2)
| | | |
| --- | --- | --- |
| Slow miles | Fast miles | Total Distance |
| 0.00 | 0.00 | 0.00 |
9 hours of glorious sleep. Heavenly!

Add Comment
Race:
Hobble Creek Half Marathon (13.1 Miles) 01:43:02

| | | |
| --- | --- | --- |
| Slow miles | Fast miles | Total Distance |
| 5.00 | 13.10 | 18.10 |

I was so not excited about running this race today. All my running buddies were at the Park City Marathon today (Hi gals!!!!), so I was really feeling lonely about this race. I wasn't very motivated and unsure of my racing abilities after the Timp Half Marathon a few weeks ago.

I watched lots of shows last night on Netflix because my massage got cancelled (grrrrr....). I didn't start packing my gear until almost 9:45pm and was forgetting stuff left and right. I haven't been this unorganized...ever? Maybe this was a blessing in disguise?

My alarm went off at 4:10am and I got ready. Of course, my tummy was feeling funny. But I ate my peanut butter and honey sandwich and got out of the door 8 minutes late (so unlike me). My hip and ankle were both achy too. Blech...


I got down to Mapleton and found a great parking place and got onto the first bus. I was really feeling lonely and was grateful for the chatty lady next to me. When we arrived at the top of the canyon, we had to walk almost a mile and I glad to warm up (it was chilly outside). The POPS lines were empty and I made a bee-line to take care of business.

Then I read my Runner's World. Got into the POP line again, then headed to the start. As I was walking back to the various pace signs, I ran into Lowell. What a welcome sight! Somebody I knew and who knew me!!! Too bad the race started immediately and I lost him.

Since most of my races/training runs have been less than spectacular (this training cycle), I had no expectations of today's race. A few weeks ago, I may have said that I wanted to break last year's time. But not today.

The race started on time which has NEVER happened.

(2011) (2012)

1:45:20 - 1:43:02

AP 8:08 - 7:58


1 - (8:03) (8:07) - Lots of weaving and I was sure that I had lost a lot of time. Guess not.


2 - (7:54) (7:57) - Always worrying that I was going too fast.


3 - (7:56) (7:50) - Grabbed a cup of water but spit it out for fear of an upset tummy. Smart move.


4 - (7:39) (7:46) - The highlight of the race....I had noticed two gals running together for awhile. As I came up behind them, I asked what time they were going for - 1:45. Then one of them asked my name and did I have a blog on FRB. I guess she had been reading my race report from Hobble Creek last year and was impressed with my time. It made me feel like a celebrity because she thought I was fast! Usually, I'm the slow one. Thanks ladies!!!


5 - (7:50) (7:48) - Still running with the ladies and having a great conversation. I left them around 5.5/6ish. Sad to see them go.

6 - (7:48) (7:43) - Took a small drop of water and felt great. Waiting to blow up and will just hang on as long as I can. Hill at 6.5.


7 - (8:12) (7:52) - Took a GU, but worried it would make tummy get sick. Another hill and on the trail. Rollers coming.


8 - (8:18) (7:45) - Actually walked through the water station and took a good drink. Still feeling really good.


9 - (8:00) (7:45) - 4 miles to go, just trying to hang on. So excited I've made it this far. I looked at my watch and thought that if I could just maintain, I might be able to PR.


10 - (8:34) (8:08) - Starting to get tired. Took another water. Getting so close....push through.


11 - (8:26) (8:13) - Took another water.


12 - (8:30) (8:18) - Really starting to get fatigued. I felt like someone was pouring lead into my legs. But no pukes....hooray!


13 - (8:05) (7:44) - Legs were SO heavy. I could start to hear the crowds and looked for my family. I wasn't sure if they were going to make but was elated to see my kids giving out pump-fists!




(Ughhhh....my form looks to horrible. I was so tired and my legs so heavy...but do I really have to look that bad????)


As I crossed the finish line, my legs gave out. There was NOTHING left. I sat on the water bench for a few minutes before I could move. I gave a hello to Jun who was announcing (I gotta give him grief for NOT calling out my name :) ). I met my hubby and kids and gave them all big loves. They are so great for coming and it meant a lot to have them there. He was suppose to run this race with me, but registered for the Hobbler Half by accident?!




My girls told me to wear my flower in my hair so I could be a "Hula Girl". So I ran my last 5 miles as Hula!!! I looked for the two gals on the course I met, but didn't see them/couldn't recognize them.




I bid farewell to the family, took another GU and headed out for 5 more miles. These were definitely slow and shufflely. The sun was really starting to beat down and I was feeling for those still running the race.

Soaked my legs in the community ice bath for 30 seconds. Got out and only last 10 seconds on round two. Brrrrrr.....

Got a big coke and donut on the way home. Funny thing is that everyone at the drink fountain had on Hobble Creek numbers. I guess we were all sick of drinking water!


So overall thoughts:

- Very pleased with 2 minute PR and that the faster miles were at the end of the course.

-I finally ran an ENTIRE race in the 7 minute/mile range. I'm going place!


-I need to work on being able to push through that last mile. That was my slowest mile and I need to work on my kick.

-Hip felt a lot better after it warmed up, but ankle started to ache near the end of the 5 miles. I'm at a lost as what to do.

-I run a lot better when I don't put pressure on myself. I need to figure out how to not take these races so seriously because I do so much better.

The End. Off to read everyone reports for the day.


Comments(7)
| | | |
| --- | --- | --- |
| Slow miles | Fast miles | Total Distance |
| 0.00 | 0.00 | 0.00 |
Designated rest day. I was finally able to work in my neglected garden for awhile. We got all the kids ready for school. Sadly, I'm ready for them to go. I need to get a few things done around this house.
Semi-sore (not as bad as Timp Half).

Add Comment
| | | |
| --- | --- | --- |
| Slow miles | Fast miles | Total Distance |
| 10.00 | 0.00 | 10.00 |
I really don't sleep well on my early-early morning runs. Plus it was SO hot in my house.
Rolled out of bed at 4:25am this morning. Ran my Manila Elementary-farm hill-nursery-Mcdonald loop. I would hit pockets of really cold air this morning (maybe a breeze coming out from the canyon) and it was heavenly. Plus, there were a lot of stars out this morning.
1:33:35
AP: 9:25
9:36, 9:56, 9:40, 9:21, 9:33, 9:17, 9:15, 8:55, 9:03, 8:52
I ran this route last week with Catherine. Not quite as hard. Legs were definitely heavy and sluggish this morning. Mostly my hammies and calves. I stopped a few times to try to stretch them out. Took a GU at mile 5.
I stretched for awhile when I got home. But I need to stretch again tonight after the trainer comes.
First day of school. As much as I love them, they need to be back in school. Hopefully, I can get my life back in order.

Add Comment
| | | |
| --- | --- | --- |
| Slow miles | Fast miles | Total Distance |
| 3.89 | 1.34 | 5.23 |
49:30 - up temple hill - nursery

AP: 9:28
10:32 - 1 mile

8:49 - .87 miles
5:07 - .69 miles - 7:29 pace

4:11 - .34 miles
3:06 - .47 - 6:40 pace

3:13 - .30 miles
1:07 - .18 miles - 6:18 pace

9:43 - 1 mile

3:38 - .23 mile
I was suppose to do 6 miles today but felt like a zombie-tired monster. It is a rest week...so I'm making it one!
Because of all the road construction, I haven't run the giant hill by my house all summer. But part of it was recently paved, so I decided to test out one of my favorite loops. It was hard seeing in the dark and there are still some unpaved/torn-up parts of the road, so I decided to wait until I had 100% sure footing to do my speed work.
The goal was 5 minutes hard - 5 minutes easy - 3 min hard/easy - 1 min hard/easy. I had a hard time seeing my watch in the dark and had to hit the light button. But despite all the technical stuff, I felt like I gave an honest effort.
What I am unsure of is ..... that my pace was slower during the 5 minute "on" session than the 3 or the 1 minute. Should they all be the same effort?
Stretched for a few minutes when I got home. Ankle is very sore and I am feeling down about it.

Comments(1)
| | | |
| --- | --- | --- |
| Slow miles | Fast miles | Total Distance |
| 12.00 | 0.00 | 12.00 |
1:52:32
AP:9:29
9:55, 9:47, 9:46, 9:26, 9:40, 9:47, 9:20, 9:04, 9:17, 9:04, 9:08, 9:08
Our ward has a rodeo every year and it happens to fall this weekend. I was asked to be in charge of the 5k so I had to move my long run to today.
So my alarm went off at 4:00am. I'll admit, I was dreading this run. So early. So dark. So alone. But I grumpily got out of bed and started running. I felt like a complete zombie.
I've mentioned that my ankle has been very achy since my slight injury (on the bottom of my foot). I attributed it to having to take 10 days off and maybe the muscles/tendons had weakened. Really....I didn't know.
I went to the doctor last week and he gave me cortisone shots. But today, the ache was there that we runners all fear (aka...stress fracture ache). As I continued to run, it continued to get worse. It was 5:00am and nothing was open for me to call Tim to pick me up. So I did a hero run and ran on it all the way back home.
It was that deep/dull ache in one spot. As much as I wanted to deny it or imagine it really wasn't as bad as I thought....it was. I called my doctor and he said to go in for a bone scan. $1000. Ughhhh....it is hard to justify $1000 to have them tell me I'm out for 8-12 weeks.
After talking with my husband about my situation, he suggested that I run the rodeo 5k and give it everything and then call it good for the season. I have very mixed emotions about this fiascle. More to come.

Add Comment
| | | |
| --- | --- | --- |
| Slow miles | Fast miles | Total Distance |
| 0.00 | 0.00 | 0.00 |
I already planned to use Friday as a rest day. Ankle definitely achy, but slightly better than yesterday.
Ward "Hoedown" was tonight. They had square dancing (with a real caller), cake walk, hay rides, bake off (I'm ticked my pies didn't win!!!!) and a projection movie. It was fun and my kids were in heaven.

Add Comment
Race:
Ward Rodeo 5K (3.1 Miles) 23:16:00, Place overall: 5, Place in age division: 1

| | | |
| --- | --- | --- |
| Slow miles | Fast miles | Total Distance |
| 0.00 | 3.10 | 3.10 |

Ward Rodeo 5k run. I was the designated "race director". I got up at 6:00am to set up the water station and route signs. I wasn't expecting a large turnout as the hoedown went late last night and I figured most people would be too tired.

But we had 25 people show up. There were 3 women. One was walking and the other was just a jogger. BIG competition!

I didn't have time for a warm up and I could feel that my legs were tight. I usually don't have a time goal...I just shoot for a PR. But given the circumstances of the week, I really wanted to go all out and get under 24:00 minutes. Since I ran a 7:58 AP for a half marathon last weekend, I hoped I could get it done. BUT I haven't raced a 5k in 3 years. Anything is possible.


I explained the course and my son got to shoot the start gun. Hubby was the official Ipad time keeper!

The young men went out like lightening and we adults just laughed at them! Soon enough we started to reel them in one by one. Someday they will learn!

AP: 7:47 - 23:16


Mile 1 (7:46) - Slight down hill. Definitely working hard, but am feeling good!

Mile 2 (7:41) - Flat with a few small rollers. Working on catching #5 guy.

Mile 3 (7:48) - Caught #5 guy and passed him with a vengeance and was hoping to just maintain. Saw #4 guy walking, but he was too far ahead to catch him. Starting to climb temple hill. Turned into the neighborhood and heard my kids screaming. We finished on the grassy area of a neighborhood. #5 overall and #1 female. My kids were proud Mom finally won a race (it is about time!!!!).


My ankle felt good during the run, but when I was done it started to ache. I couldn't have gone any faster, but it seems like only 11 seconds/mile faster than my time last weekend....well, I should have been faster today.

We waited for a few others to come in and then started then kids 1K. I ran with them and they started like a bunch of wild Indians!!! Finally, they calmed down and I ran with the kid in 1st place. My son was right on his heels, Annie was right on Carter's heels and Abby was right on Annie's heels. It couldn't have made me prouder than to take second, third and fourth place!

After the race, there was a children's parade, breakfast, children's games, mutton busting, chicken chasin', calf riding, bull riding, snow cones, popcorn, cotton candy, nachos and filthy Barlow children! Good times by all.

Stress Fractures thoughts to come.


Comments(4)
| | | |
| --- | --- | --- |
| Slow miles | Fast miles | Total Distance |
| 0.00 | 0.00 | 0.00 |
Telling a runner they can't run is like taking the air out of balloon. The balloon just can't function. I'm feeling sad and depressed as I'm so very close to running marathon #3. I felt like I could have set a PR.
But what is done is done. I could run on it, but I know it would prolong recovery and do more damage. The ache doesn't feel as deep or strong as when it did during my last stress fracture (ironically, it is in the same place though). If it doesn't start to feel better in a few weeks, I will pay the $1000 and get the test done. It if starts to feel great in a week, I will do a few test runs and reassess.
Last week, 3 out of my 5 runs started in the 4:00am hour. It wiped me out. Granted I would rather be running at 4:00am than not running, but I was getting worn out. I was having a hard time getting "life" done during the day because I was so tired. Everything was revolving around this marathon. And honestly, there is more to life than marathons. I need to remember that.

Maybe it is a blessing in disguise. Maybe I need to regroup and get my life back in order. I need to have a very minor surgery done and was waiting till after SGM, but maybe now is the perfect time.
But the thought of having to start "all over" to build my fitness seems like a lot of work. What if I can't get back in shape to my current fitness? Whenever I'm injured, I feel like I can't claim the runner status. I don't fit in with my running friends. I feel fat and lazy. I've had a few really stressful issues lately and I'm grateful I've had running to help cope. But now how do I cope?
My non-running plan it to wear a boot for a few weeks. No bike or swim, but lots of core and upper body lifting. Bike/swim after a few weeks. Re-evaluate as needed. Any advice is welcome.

Sad.

Comments(6)
| | | |
| --- | --- | --- |
| Slow miles | Fast miles | Total Distance |
| 0.00 | 0.00 | 0.00 |
Workout with trainer. Only arms and core.
Add Comment
| | | |
| --- | --- | --- |
| Slow miles | Fast miles | Total Distance |
| 105.58 | 24.04 | 129.62 |
Debt Reduction Calculator